Get The Carfax Advantage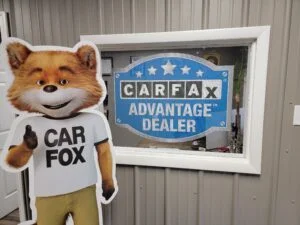 We are thrilled to announce our exciting new partnership with Carfax Advantage, revolutionizing the way car shoppers research vehicles before making a purchase. As the industry's most trusted source of vehicle history information for used car buyers, Carfax Advantage empowers our customers to make more informed buying decisions effortlessly. At Tackett Motors in Ashland, KY, we take pride in offering an extensive inventory that caters to every budget and credit score. Our commitment to integrity, transparency, and accountability ensures that our customers receive top-notch service. Discover more about us and experience the Carfax Advantage firsthand.
CARFAX: Pioneers of Vehicle History Since 1986
CARFAX, the true innovators in vehicle history, have been dedicated to perfecting their craft since 1986. With an unwavering commitment to excellence, CARFAX has amassed a staggering 24 billion vehicle history records from over 112,000 trusted sources. Recognized by an impressive 93% of consumers, CARFAX Car Care is the brand that customers trust by name.
The Power of the CARFAX History Report
The CARFAX History Report provides a wealth of information that gives car buyers confidence in their decisions. It includes:
Full accident history: Detailed information on past accidents, including severity.
Detailed damage information and severity: Learn about any damages the vehicle has sustained and their extent.
Point of impact details: Understand the specific areas of the vehicle that were affected by accidents or damages.
CARFAX Advantage History Based Value: Your Key to Smart Purchasing
Comprehensive repair history: Access a detailed record of repairs performed on the vehicle.
Access CARFAX Reports Anywhere, Anytime
CARFAX Advantage History-Based Value
CARFAX Advantage History-Based Value equips you with the knowledge to make smart purchasing decisions. By accessing CARFAX Reports anywhere, anytime, you gain control of your car-buying journey. With us, every vehicle purchase comes with a complimentary CARFAX History Report, putting you in the driver's seat when it comes to making informed choices. Count on CARFAX to provide the most comprehensive accident and damage information available, ensuring you make a confident choice. Join us at Tackett Motors and unlock the Carfax Advantage today. Experience a new level of confidence and peace of mind while shopping for our carfax used car listings.