Get The Carfax Advantage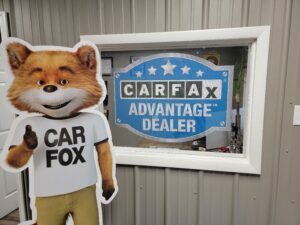 We are excited about our new partnership with Carfax Advantage which will give car shoppers another avenue to research a vehicle before purchasing. Carfax is the most trusted source of vehicle history information for used car shoppers, and we are thrilled to be partnering with them to make it even easier for our customers to access the information they need to make more informed buying decisions. At Tackett Motors in Ashland KY, we have a huge selection of inventory. We have vehicles to fit every budget and credit score. We value integrity, transparency, and accountability as part of our complete service level to our customers. Learn more about us!
CARFAX invented vehicle history in 1986 and has been investing in it ever since. Their data is backed by more than 24 billion vehicle history records from more than 112,000 sources. And 93% of consumers recognize CARFAX—it's the brand customers ask for by name.
Every Vehicle comes with a free CARFAX History Report
Rely on the Most Accident and Damage Information
Rely on the Most Accident and Damage Information
Full accident history
Damage details and severity
Point of impact
Repair history
Avoid overpaying with CARFAX Advantage History Based Value—it's on every CARFAX Report
Access CARFAX Reports anywhere, any time with desktop and mobile versions